Teaching

At the University of Florida, I teach mainly quantitative courses within the Department of Tourism, Recreation & Sport Management. These include both Statistics and Finance courses specific to the Sport and Tourism industry. Additionally, I have been a guest speaker on Tourism Economics and Sports Economics in courses within our department. I have taught Sport Finance in our online program here at UF, and am preparing to develop new Sport Finance and Economics courses online.


University of Florida

SPM6905: Sports Economics
This is a graduate course to be first taught in the Spring 2017 semester at the University of Florida. The course is a mix of sports economics principles and theory, as well as a seminar style course that focuses on core academic papers in the area of sports economics. Topics range from the Foundations of Sports Economics Theory, to Sports Demand, Labor, Antitrust, and Competitive Balance, to College Sports, Taxation, and Bias and Discrimination in sport.

HLP6515: Evaluation Procedures in Health and Human Performance
This is our statistics course within the Department of Tourism, Recreation, & Sport Management at the University of Florida. Topics begin at the very basics (building data, graphing and exploratory analysis, central tendency measures, central limit theorem and the normal distribution, random sampling, hypothesis testing) through using statistical analyses to make decisions while having a full understanding of the uncertainty surrounding these decisions (t-tests, ANOVA, Chi-square, regression). This course is focused on application of the basic skills, and lectures will focus on specific examples to get the point of each topic across to the student.

SPM5506: Sport Finance
In the Fall Semester of 2012 and Spring 2013, I taught/will teach graduate level Sport Finance at the University of Florida. This course uses the text by my colleagues, Jason Winfree and Mark Rosentraub and for discussion, Fort & Winfree's 15 Sports Myths. It focuses on basic finance concepts (interest rates, risk, inflation, depreciation, etc.) and their application to specific topics in Sport Management and Sports Economics such as ownership structures, costs and revenues, stadium financing, pricing, demand for media/attendance, league policy, taxes, and team valuation. This course focuses on using financial analyses to make decisions from a managerial perspective.
SPM5506: Sport Finance (Online MS)
This is a newly developed online version of the on campus MS course SPM 5506 that was first taught in the Fall 2015 semester. It is administered fully online for the only MS Degree in Sport Management at the University of Florida. It is now offered 3 times per year.
SPM4515: Sport and Business Finance
This course is similar to the graduate level course, but covers some additional topics in Sports Economics due to a Finance pre-requisite not required for the graduate course. While the topics are not taught at as high of a level, the breadth of this course is larger to give undergraduates a more broad view of topic areas in Sport Finance and Economics. I use the Winfree & Rosentraub textbook for this course as well.

SPM4515: Sport and Business Finance (UF Online)
This course is the undergraduate level online version of SPM4515 at UF, offered twice at year at UF. The course will focus on much of what is covered in the on-campus version of the course. A new development took place during the Spring/Summer of 2014, and the first implementation of this new course began in the Spring 2015 semester. This course also uses the Winfree & Rosentraub text and is offered 2 times per year in the Spring and Summer semesters.
University of Michigan
SM313

: Research Methods and Analytical Tools for Sport Managers


Within the School of Kinesiology at the University of Michigan, I took the role of primary lecturer for SM313: Research Methods and Analytical Tools for Sport Managers. This was a new experimental undergraduate class with practical business applications of research methods and critical thinking (heavy use of Excel and SPSS/PASW). I developed the initial lectures for this class in Fall of 2010 and co-developed the labs with my fellow graduate student, Seung Pil Lee.


Other Educational Endeavors
Data Camp
I developed the course
Exploring Pitch Data with R
for the online platform Data Camp. This course teaches the basics of analysis of Statcast data using R.

Baseball With R
I was a regular contributor to the blog Exploring Baseball Data With R alongside Jim Albert, Ben Baumer, Max Marchi, and Carson Sievert. Posts here consist of short tutorials on statistical programming in the open source program, R, using baseball data.

Blogging About R
In the past, I ran a series of online posts through my personal blog and the R-Bloggers website teaching beginners how to use the open-source program R through the lens of baseball. I believe that the best way to learn statistics and statistical programming is by applying it to something that is extremely interesting to the student. My series - coined "sab-R-metrics" - attempts to do this and encourage others to learn R and expand the open-source language within the field of sports research. The series was highlighted at the Revolutions Blog and later included in the February edition of the Revolution Analytics Newsletter.
Powered by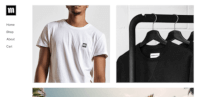 Create your own unique website with customizable templates.